With an enchanting view of the Etna, the sea and Taormina. It is only 2 Km away from the beach of San Marco. Calatabiano a small agricoltural centre at 2 Km. from the residence is famous for its "medlar Festival" and the pittoresque feast of the town's patron saint, St. Philip which is held in may. The ruins of an arabian-norman castel overlook Calatabiano, wich enjoys a splendid panorama of the Jonic coast from Taormina to Riposto.
Hospitality is offered in residences:
Residences are surrounded by a garden full of flowers.
---
How to get there
By CAR:
Coming from Messina on the ME-CT highway get out at Giardini Naxos and go along the S.S. 114 towards Catania for another 3 Km after passing The Alcantara river. In front a Petrol Station find a country road going to "Galimi".
By AIR:
Catania Airport (Km.60)
By TRAIN:
Taormina - Giardini Naxos railway
The Raineri Residence is only 2 Km from the ME-CT higway, this is the ideal location facilitates exursions to
TAORMINA (13Km)
CATANIA (46Km.)
MESSINA (60Km)
SIRACUSA (104Km.)
CALTAGIRONE (123 Km.) citta della ceramica
PIAZZA ARMERINA (160 Km.) e la sua villa romana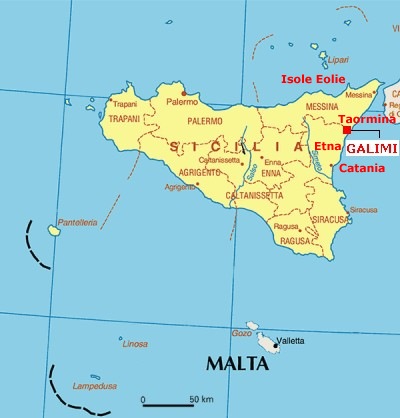 ---